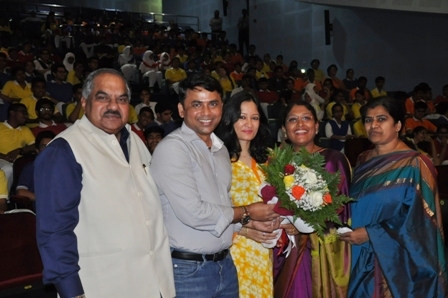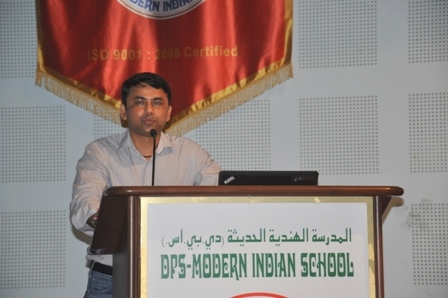 On 21st May 2016, DPS-Modern School hosted a workshop for the students of grade XI and XII to promote leadership skills among the potential leaders of the next generation and inspire the students to dream more, learn more, do more and become more. Believing that 'True leaders don't create followers, they create leaders', dynamic leaders Mr.Quaiser Khalid, the Joint Commissioner of Police of Mumbai and Mr. Shaikh Mohd. Adil Bin Arif, founder of the Quranic Research and Rehabilitation Centre, Hyderabad were cordially invited as the Guests of Honour.
President DPS-MIS Mr. Hassan Chougule welcomed the guests and urged the students to draw inspiration from the enriching experiences of the guests.
Guest of Honour, Mr.Quaiser Khalid, mesmerized the students with his rhetorical skills. To be a leader, a person must have a deep-rooted commitment to the goal and strive hard to achieve it and make a difference! He advised the students to stay firm to one's morality, dream big but stay rooted. He challenged the students' perception on leadership and helped them understand the true meaning of it through his real life experiences. He also mentioned about the generation gap and their differences, and emphasized on the need of working together for prosperity and development. Speaking about the ample number of opportunities available in every field, he stressed on the requirement of determination, dedication and hard work.
The interactive session gave a new insight to the students about the leadership and will help them to reap a rich harvest in the years to come.

Principal Ms.Asna Nafees briefed the guests about the distinct achievements of the school and its vision and mission. She also thanked them for their inspirational presence and valuable guidance.
The program was ably anchored by Irfan Khan and Prerna Sharma,students of class XII under the supervision of Ms. Deepa Chakraborty, Activity coordinator senior- wing. The vote of thanks was proposed by Anindya Chakraborty-XII A.